Zee is the representation of ItsZee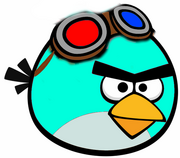 Abilities
Edit
Equipment
Edit
In a Normal Angry Birds Game
Edit
Tap any area, then Zee will shoot electricity there. you can do this 3 times. Electricity instantly destroys wood, ice, and stone.
Owned By: ItsZee
Personality
Edit
Zee is a creative and very intelligent bird. He hates pigs more than anything.
Birds
Pigs
Ad blocker interference detected!
Wikia is a free-to-use site that makes money from advertising. We have a modified experience for viewers using ad blockers

Wikia is not accessible if you've made further modifications. Remove the custom ad blocker rule(s) and the page will load as expected.