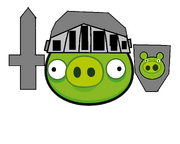 Knight Pig is a tough pig.
Weapons and Equipment
Edit
Sword: he can fight with it
Shield: he can defend with it
Armor: 5 birds to take it down
Allies and Enemies
Edit
Personality
Edit
He is brave, strong and smart
Explosives: destroys his helmet quicker
Toughness
Edit
High: he can take two explosions from Bomb sometimes.
n00b123y
Ad blocker interference detected!
Wikia is a free-to-use site that makes money from advertising. We have a modified experience for viewers using ad blockers

Wikia is not accessible if you've made further modifications. Remove the custom ad blocker rule(s) and the page will load as expected.