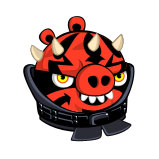 Darth Moar is a gift from CW369 to Coffee Cup Productions.
Personality
Edit
Pigaltine's apprentice which enjoys slicing dumb birds.
"You remind me of that Qui-Gon guy."
"TAKE THAT! *slices bird*"
"DAH SETHE WANNA MOAR
MWAHAHA-HA-HA-HA-he-hue-he-he!
Other Info
Edit
Ad blocker interference detected!
Wikia is a free-to-use site that makes money from advertising. We have a modified experience for viewers using ad blockers

Wikia is not accessible if you've made further modifications. Remove the custom ad blocker rule(s) and the page will load as expected.